ANNA YERMOLOVA: "COMMUNICATION WITH THE HELP OF A PHOTO"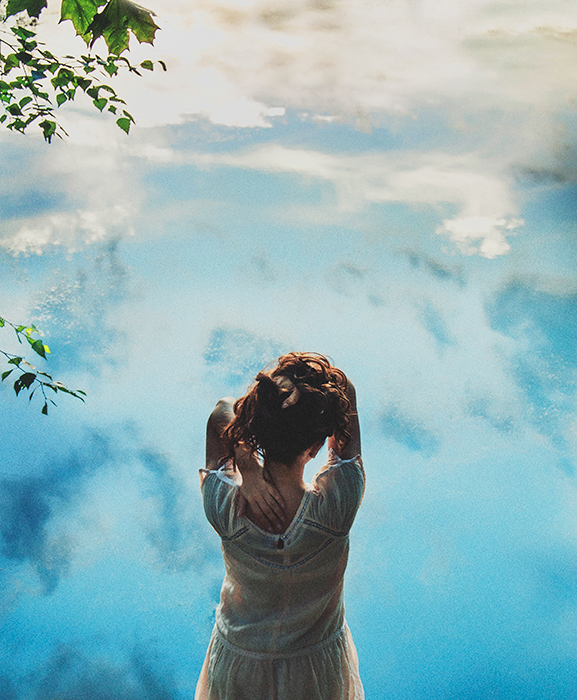 The young Moscow photographer Anna Yermolova is one of those people who consider photography as their profession, so she began with a serious special education. By the way, she only finishes her studies, although she is already engaged in teaching. Here is such a serious approach to business. Yes, and in addition to film and digital printing, she also owns such ancient techniques as cyanotype and resinotype. Read Anna's story about yourself in her interview with our magazine.
– Tell us, please, how did you discover the world of photography and how long ago did you start photographing?
– As a child, I loved to watch my grandfather print photos. I, of course, did not understand anything, but the memory remained forever in my memory: I looked at the cuvette with the developer, a white sheet of paper lay there, and suddenly an image began to appear on it. For a child of four, it was real magic. It is this moment in the photo – the development of the image with manual printing – has always fascinated and continues to fascinate me until now; every time I feel it as a small birth.
Consciously, I started shooting about seven years ago.
Anna Ermolova, Moscow photographer, interview
– Have you studied photography yourself or professionally?
– I have always had the conviction that if you choose a profession for yourself, you must have an education in this field in order to understand all the details and nuances. It seems to me that the desire to become a photographer was my first serious and responsible choice, so in 2006 I entered the Moscow Polytechnic College named after the Moscow City Council for the specialty "technique and art of photography". Three years of continuous practice, experience, communication with people with burning eyes only strengthened my desire to develop further in this kind of art. I am very glad to have met there people who are obsessed with photography, with whom we still go side by side and organize joint projects. After graduating from college, I enrolled in MGUKI to specialize in "photo-creative work", where I was already completing my studies. Fundamental education is important in our profession, but the presence of a mentor is even more important. I was lucky that I have it!
Anna Ermolova, Moscow photographer, interview
– Which genre is most interesting for you?
– I am interested in the very way of communicating through photography, regardless of which genre is used for this. In addition, I like to combine them in one picture. I am interested in artistic photography as a whole, without dividing it into views. And even more interesting, probably, are not genres, but themes of the collision of living and inanimate, love, femininity, motherhood, inner life.
Anna Ermolova, Moscow photographer, interview
– What would you call your style in photography?
– Difficult question … I think so: impression, emotions, symbol.
Anna Ermolova, Moscow photographer, interview
– Equipment – cameras and lenses – which manufacturers do you use?
"I prefer Nikon from digital and film autofocus technology, but I also love my medium format Kiev-88.
Anna Ermolova, Moscow photographer, interview
– What goal in photography would you like to achieve?
– The goal is perceived by me as the end point. But when you do what you like, you don't want it to end. Climbing one mountain, you always see another. I would like to be engaged in a photo, to be improved more deeply in it, to work on different tasks. I am very grateful to the project ARTFOTOKOM, which allows you to communicate with very interesting people. We also have a lot of diverse creative projects now. I would like to continue in the same spirit, uniting the photographers close to us, to strengthen their stronghold (smiles).
I also very much want to engage in teaching, more precisely, to continue moving in this direction, since this year I have already received quite serious teaching experience: I conducted six master classes for students in the specialty "technique and art of photography" in KAIT No. 20.
Anna Ermolova, Moscow photographer, interview
– Can you tell us about your most unusual shooting? Or maybe there is a particularly dear work for you?
– I love my very first still life from the "One Window" series. I filmed it in a very strong thunderstorm, and because of the strong wind, objects constantly fell; the entire floor of the room was in the water, because the vase fell four times; As a result, the frame turned out to be decisive, where, at the time of the shutter release, it once again fell and broke. Vases are no more, and I continue the series.
Anna Ermolova, Moscow photographer, interview
– Where do you find inspiration and sources of ideas for your photos?
"Today I picked three sprigs of wormwood and put them in a glass vase with a narrow neck; I look at this modest bouquet, and joyfully in my heart, which means that a new still life will be born, perhaps a portrait. It is important to surround yourself with what is close to you, and remember that life is a source of inspiration and ideas!